One of your close friend's birthday is coming up and you have no idea what to give them. Does that scenario sound familiar? In truth, choosing the best birthday gift box for your friends can be quite daunting. The idea of birthdays being special days to celebrate the birth of someone which holds special meaning for everyone involved in said birthday can pressure you into overthinking what you should be giving to your friend in order to give them a pleasant experience with this year's birthday. With the added difficulty of people usually not giving out what they want to get on their birthdays, even if you're very close to said person, it would be considerably difficult to think of the perfect gift for your close friend. With that, we're here to help you ease up that difficulty by giving out some ideas on what type of birthday gift box you can give to your friend!
1. Snacks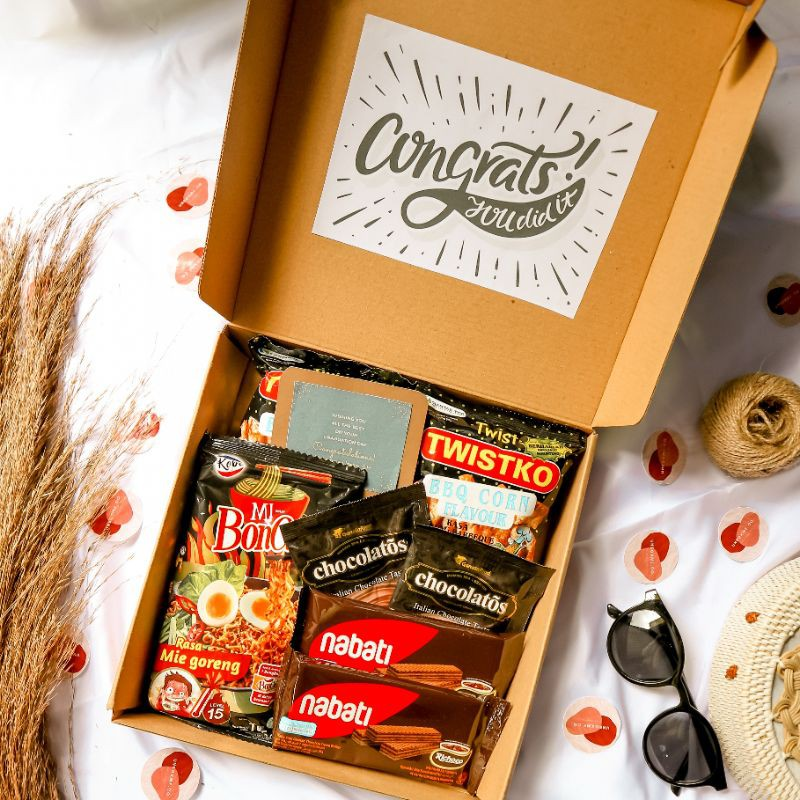 A box filled with tasty snacks can brighten your friend's day | Credit: Shopee
Be it spicy, savory or sweet, good food has always been considered as 'a way to someone's heart'. As a birthday gift, snacks are definitely a great option if you want to give food to your friend. They are versatile, customizable and there are plenty of options and varieties to choose from. You can go as simple as buying a couple of snack boxes that include the snacks that your friend likes. Or if you want to make it more special and personal, you can try ordering or even making homemade snacks! Some things that need to be considered when picking snacks as a gift are your recipient's preference and the packaging. There also exist services, both online and offline, that offer snack boxes as a gift that you can easily customize and purchase with ease.
2. Digital Nomad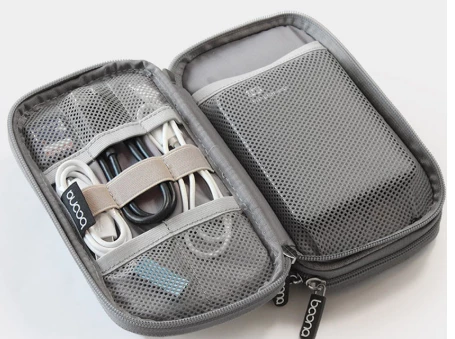 Electronic pouch helps in storing everyday carry electronic accessories | Credit: shopwanderwear
With the growing needs for digital talents, more and more people are deciding to live as a digital nomad. Digital nomads are location-independent people using technology to work their job. If your friend you're trying to gift happens to be a digital nomad, there are many options that you can consider. In order to support their nomadic lifestyle, digital nomads will need several tools that can help them work while they are on the move. One of them is a small electronic pouch for cable organization. This pouch can hold USB cables and other everyday carry electronic accessories neatly without mixing and potentially losing them inside the backpack or bag that your nomadic friend carries around everyday. Speaking of electronic accessories, power banks and external storage are among the most useful tools for a digital nomad. Both of those gadgets provide portability for charging and data storage, especially in places where electric sockets and network connections are limited or unavailable when traveling. Also, when it comes to traveling, nothing can beat the importance of carrying a water bottle. Hydration is a basic need and living constantly being on the move means you need a portable way to store your water. All those aforementioned gadgets are great and affordable options that you can choose for a birthday gift box.
3. Gamer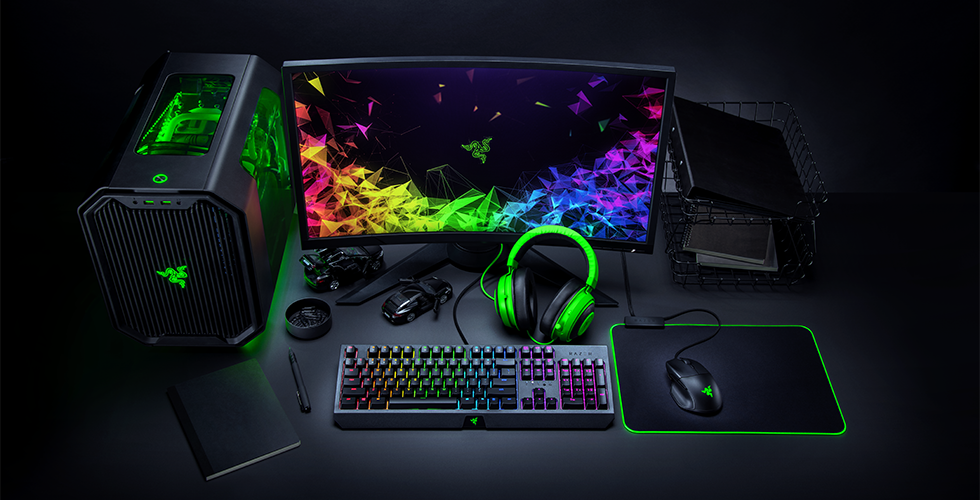 Decent game peripherals can impact the gaming experience positively | Credit: Razer
People from different backgrounds have been enjoying video games for a while now. Be it as a casual gamer that plays just for fun, a hardcore enjoyer, or even a professional gamer. In case your friend happens to be into gaming, there are several products that you can fit inside your gift box. If your friend is into gaming on PC, you can try getting mouse mats, mice, keyboards and gaming headsets as a gift. These gaming peripherals are functional and versatile options. They generally give a positive impact to the gaming experience and can still be used outside gaming. Furthermore, they come in a wide range of quality, style, model, brand and budget from which you can choose from. Gaming peripherals can also make for a unique and memorable gift box for your friend, especially if you can manage to get the specific brand or model they like.
4. Skincare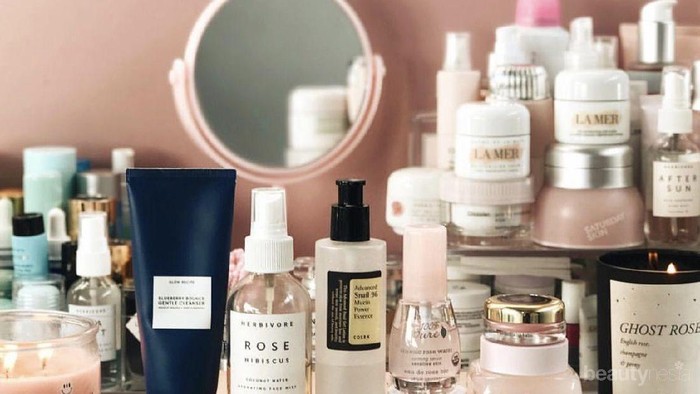 Good skincare is essential to enhance skin condition | Credit: Beautynesia
It's no secret that a large portion of people, regardless of gender, put a considerable amount of care over their looks. For some people, having a good look is an important investment. Poor care of your skin will not only cause pimples or dryness, it can even cause skin cancer, especially if you skip sun protection. A simple skincare routine of washing the face, using toner, moisturizing and finishing it with sunscreen will keep your skin glowing. By having better skin, it can boost up your confidence as you are free from various skin problems. Not only for those benefits, using a face mask while watching some movies can also be a perfect me-time to avoid stress that could also affect your mental and of course, your skin condition. Surely not limited in face skincare, hand cream with fancy or relaxing fragrance can also be practical because of its size so your friend can bring it along with them anywhere to easily keep their hand moisturized and smells good. All those aforementioned skincare products would definitely make for a good bundle of simple and beneficial gifts for your friend's birthday.
5. Audiophile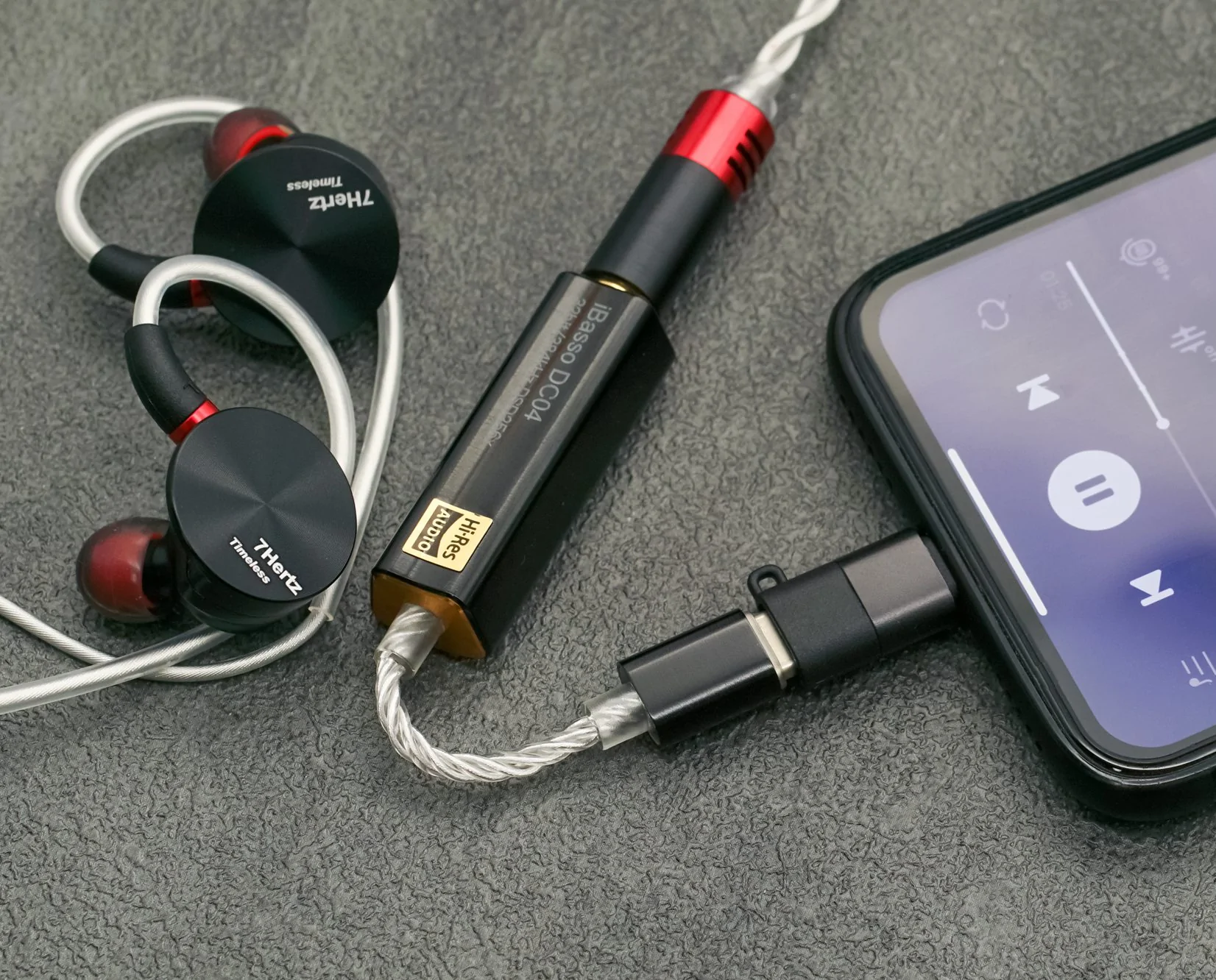 Good headset and amp can provide decent hi-fi audio quality | Credit: HiFiGo
People from many cultural backgrounds have been enjoying different forms and genres of music from multiple different media and platforms. Among the large pool of music enjoyers, there also exist people who have great passion for pure audio and sound quality. These people are known as audiophiles. In their pursuit for high-fidelity sound reproduction, audiophiles take a good consideration over what audio gadget they are using. They usually prefer decent in-ear monitors (IEM), over-head headsets, and wireless earbuds along with a good amplifier for wired headsets. These gadgets can be your options for your audiophile friend's birthday. Pick a decent portable DAC amp compatible with your friend's phone plus a decent IEM and you've got yourself a gift bundle that would add to your audiophile pal's collection.
6. Bookworm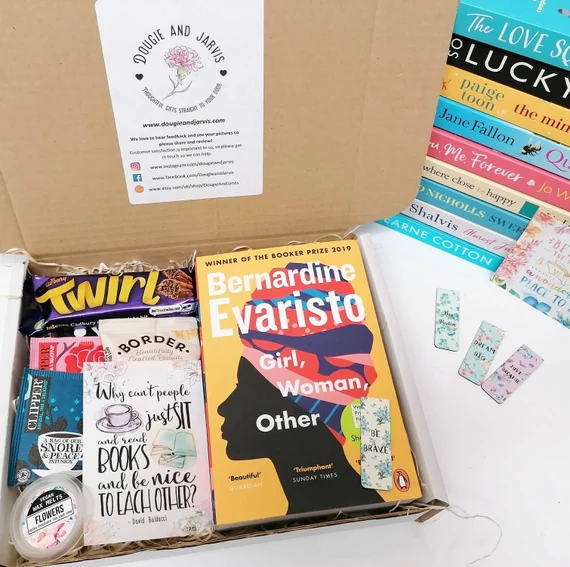 Books make for a thoughtful, long-lasting and cost-friendly gift | Credit: Etsy
Books are another simple but great option when it comes to birthday gifts. Especially when your birthday pal happens to be a bookworm. They make for a thoughtful, long-lasting and cost-friendly gift. Physical copies of the books, especially, can be as unique and personalized as postcards, but with extra value in the information they contain; which can either be educational, entertaining or both. The trick here is to know your friend's preference and interests. You may want to take your time to learn their favorite author or subject of interest before picking the selection of books that you want to arrange into the gift box.
7. Relaxing Evening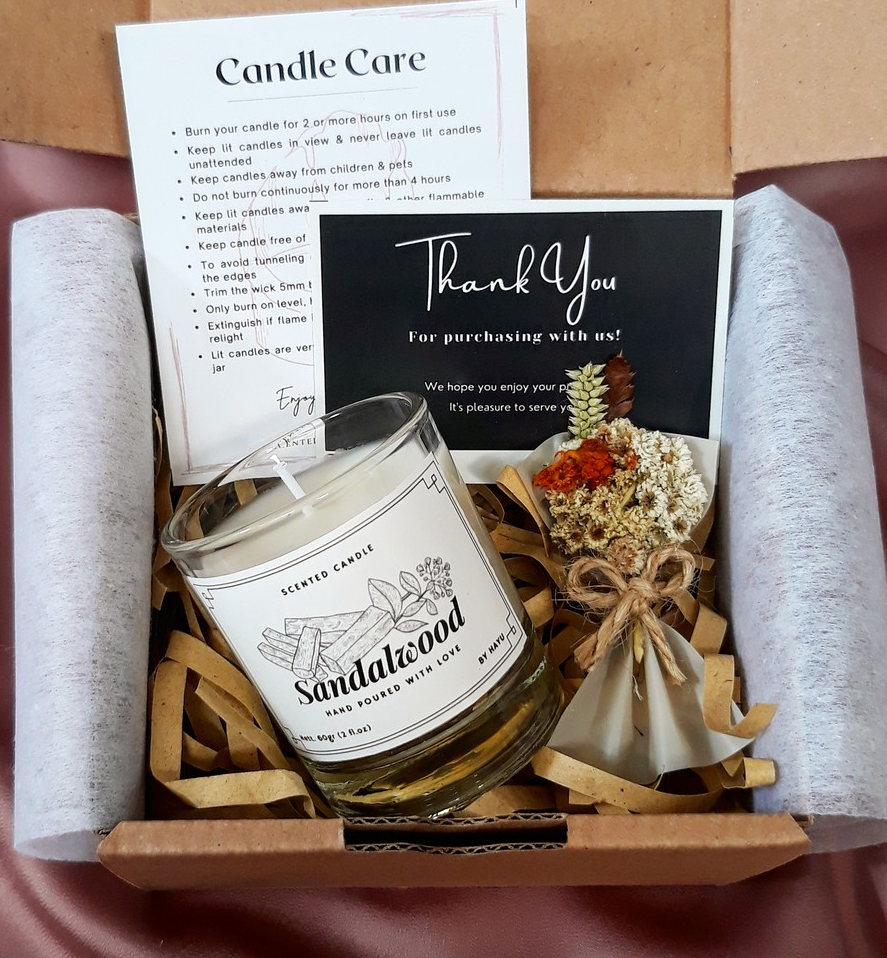 A box of scented candle can be a subtle yet meaningful gift to have | Credit: Shopee by Hayu Indonesia
Everyday routine can get stressful over time, be it daily chores or long days at work. And it's necessary for everyone, including your friend, to unwind every now and then so as to not put too much stress on physical and mental health. Different people have different ways to unwind and destress. Some like to spend their time relaxing and enjoying their time in the evening. For such people, scented candles can be a subtle yet meaningful gift option that they can enjoy. The aroma that the candles produce can help them relax. Scented candles can also be a good decorating piece on a desk. There are also varieties of brand, size, scent and color of scented candles that you can choose from. These candles are not only fragrant, affordable and aesthetically pleasing, but also easy to arrange in a gift box. Which is why it is recommended as a gift box set to consider for your birthday pal.
8. Tea Connoisseur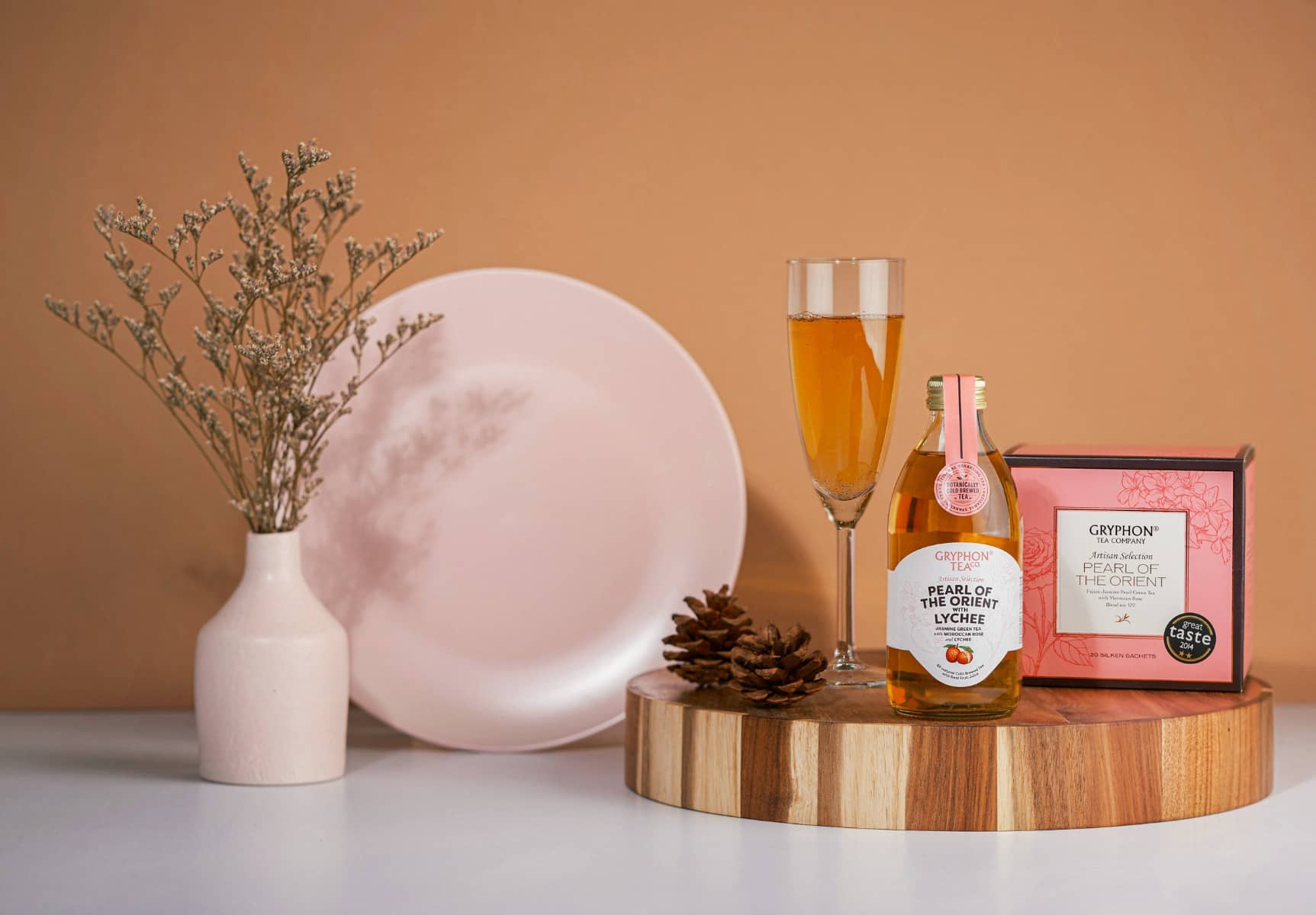 Tea is the perfect drink for gatherings that can lift up anyone's mood | Credit: Gryphon Tea Company
When it comes to picking a birthday gift for your friend, you can never go wrong with a box of tea. Tea could be a very thoughtful gift as it has so many benefits, from relieving stress, strengthening the immune system, to making bonds with people. For people with a packed schedule that barely has any time to refresh their body, a couple of minutes of drinking tea could be a perfect thing to do as they take a break and relax for a bit as a self care. Tea can be enjoyed in various ways, be it iced tea for the sunny and hot weather, or serve it hot to warm up your body. With the popularity of tea-based products nowadays, there are a lot of variations that one can explore, ranging from flower tea, herbal teas, to teas that are made from mushrooms. You can pick one from the available choices and bring the sense of relaxation to your friend by giving various flavors of tea as 'a pat on the shoulders' after a long tiring day.
Flavorful and colorful Rittersport chocolate for an equally festive celebration ...
It's a blue Tea Set, Très Belle!
A gift-box that smells and tastes just as pleasant as it looks