Who says only women love getting gifts? Men are also very happy to receive a special surprise such as a cool, unique gift box. Although many of them may not be explicit in expressing their excitement, a man is still a person who will feel very appreciated when given a gift or surprise.
Therefore, if you plan to give a gift box to your male friend or partner, you should not be sloppy when preparing it. In addition to the contents of the gift, you also have to pay attention to the shape, material and appearance of the packaging of the gift box that you are preparing so that they would look neat and cool. A good gift box will certainly give the impression that you are sincere about giving it to the recipient.
Well, in this article, Studiokado will be sharing some tips that can help you prepare a cool and unique gift box, be it for a male friend, or your beloved partner.
Here are our Tips for Making a Cool Gift Box for Men
1. Choose Sturdy and Durable Materials
Having something functional and durable is certainly desirable for nearly everyone, more so for a man. You can use thick cardboard or high-quality wooden boxes to make the gift box. Ensure that the material you choose is strong and durable so that not only does the gift box look sturdy and attractive, but also reusable.
2. Customize the Gift Box Design according to His Personality
Generally, for an adult man, plain gift box packaging is a safe option to use. Neutral to mute colors like black, brown, beige and blue can be used as the base color of your gift box. To add accents, you use simple ribbons with contrasting and matching colors on your gift box. Of course, the choice of shape, color and accent design of your gift box does not have to be rigid. You can also experiment while adjusting to the recipient's preferences. He might even prefer bright pastel colors and a distinctly unique box shape.
3. Fill the Gift Box with Unique Items
Pick unique items that appeal to the recipient's interests and personality. Some ideas of items that you can put in a cool gift box for men include:

Fashion Accessories
Include fashion accessories that can be used to boost his appearance. There are many accessories you can choose from, such as a quality leather belt, a stylish watch, trendy sunglasses, or a leather wallet that will make him look even cooler.


Fashion accessories that you can include in the gift box to boost his appearance | Credit : Lum3n on pexels


Gadgets Accessories
You can also include accessories such as wireless earphones, a power bank with an attractive design, or a smartwatch. These devices are a safe choice that can help and enhance his experience when using his gadgets on a daily basis.

FGadget accessories can help and enhance his experience while using his gadgets | Credit : SCREEN POST on pexelss


Grooming Products
Even a man still needs to take care of himself. That's why, you should consider personal care products such as perfume with a masculine scent, quality skin and hair care products, or a stylish shaver as a refreshing gift.

Consider personal care products as a refreshing gift for him | Credit : Cup of Couple on pexels


Favorite Merchandise
If he is a fan of certain movies, music, sports or esports teams, you can include his favorite merchandise such as t-shirts, hats, collectible figures or posters from his favorite fandom. This will make him feel very appreciated that you are taking good care of his interests.

Show him that you care by choosing merchandise from his interests or favorite fandom as a gift | Credit : Erik Mclean on pexels
4. Arrange the Gift Box Contents Neatly and Creatively
Slick gift packaging must of course be accompanied by neatly arranged contents. When arranging the items in the gift box, make sure everything is well organized to make it look attractive. You can also add paper, fabric or other soft materials to make the interior of the gift box beautiful and keep the contents inside intact. The contents of the gift box should also be arranged in an aesthetically pleasing and balanced hierarchy. As a rule of thumb, you can put smaller, detailed items at the front of the box and place larger items at the back.
5. Include a Personal Message in the Greeting Card
Don't forget to include a greeting card with a sincere personal message. Write words that explain how special he is and share your heartfelt affection. A personal message in a greeting card will give a deeper emotional touch and make him feel highly appreciated.
6. Extra Bonus for Extra Surprise
You might want to surprise him with an extra special gift. For instance, you can add a memorable photo together or tickets to a concert by an artist he loves. You have to be sensitive to the things that can make him truly speechless for this surprise gift to be successful.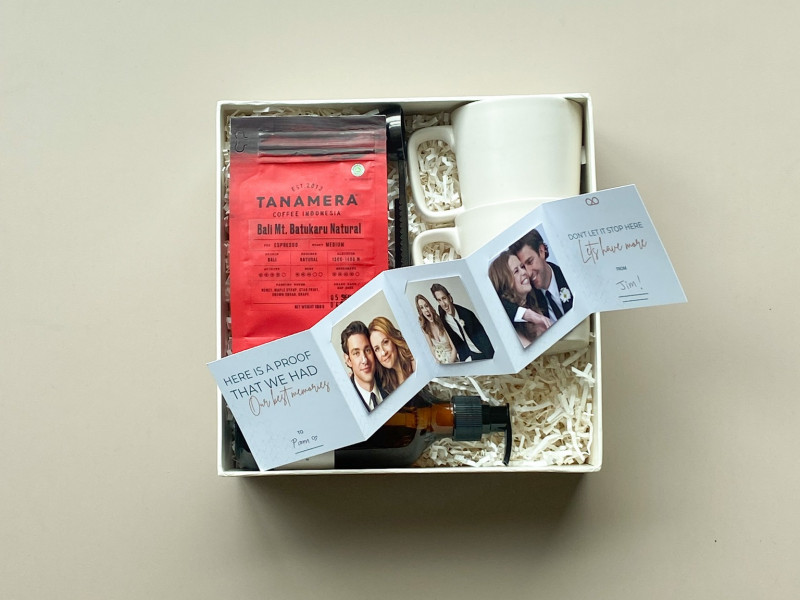 Arrange the gift box content neatly, then put on a personal greeting card along with bonus surprises for him | Credit : Studiokado

By following the tips above, you should be able to create a cool and special gift box for your male friend or partner. What is equally important aside from the gift box that you have prepared is your sincerity. In the end, the value of your gift box is not only limited to its physical value but also the sentimental value of your sincerity and dedication in providing the best experience for him.
Creating a unique and cool gift box for a man takes time and effort. You can arrange and pack your own gift box, or simply choose a practical solution for your gift design needs through Studiokado. You can choose from the gift box options we provide or customize your own gift box as you wish to make your gift box more personalized.
Safety yet stylish wallet in one
A thoughtful gift for the hard-working man
Elegant black themed Gift Box for Him