Make Valentines Day Count by Giving Loved Ones a Heartfelt Gift
The season of love and Valentine's Day is coming your way! On February 14th people all over the world celebrate this day of affection, friendship and admiration towards each other. You heard it, Valentine's day is not limited to your significant other only, in some parts of the world, even friends exchange chocolate to show their gratitude for their company.
So why is Valentine's Day associated with giving chocolate to your loved ones?
Chocolate is proven to produce a mood enhancing feeling of joy and is similar to the feeling of being in love. With tons of different chocolates out there, and many other items to choose from, we need to be mindful of what we choose to celebrate this special day. Here at Studiokado, we help you make your valentine's day the perfect romantic day by providing you with our Valentine's Day hampers with unique and high quality items so you can enjoy Valentine's Day with ease. Valentine's Day Gift Box for Her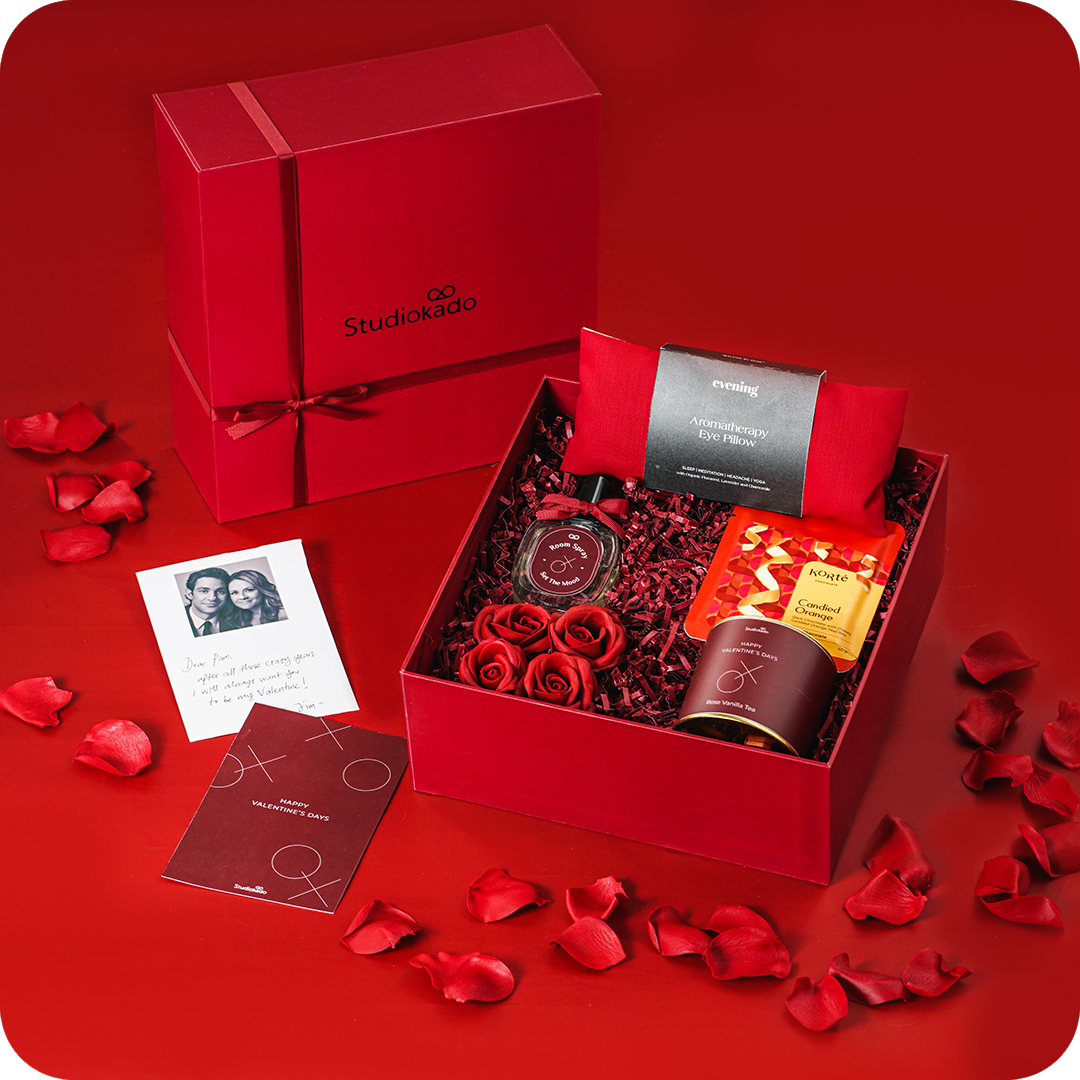 ROUGE | Valentine's Day Gift for Her
Unwrap love and excitement with our elegant Valentine's Day gift box, filled with hand-picked treats and treasures for the ultimate romantic experience
Hampers Recommendation for a One of a Kind Valentine's Day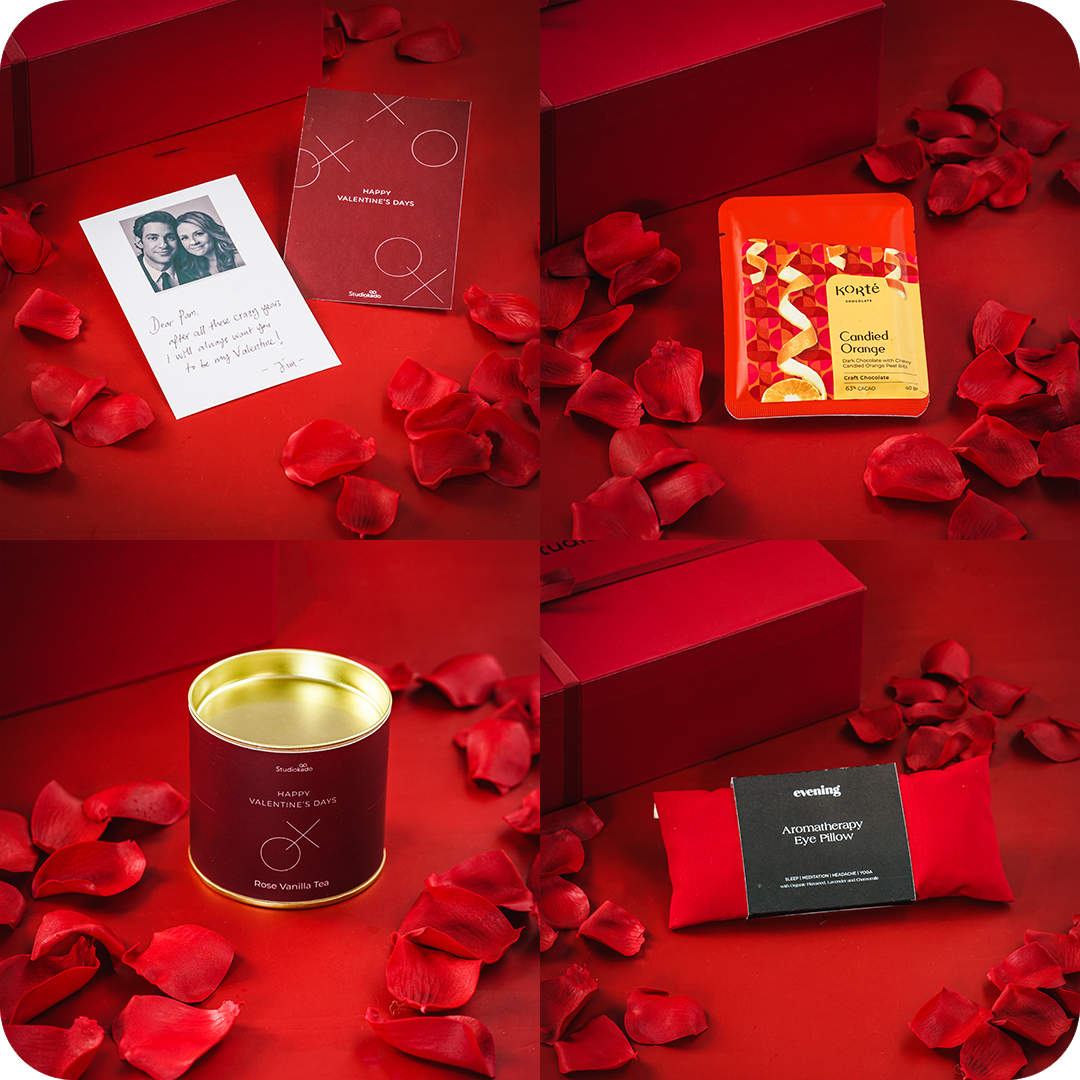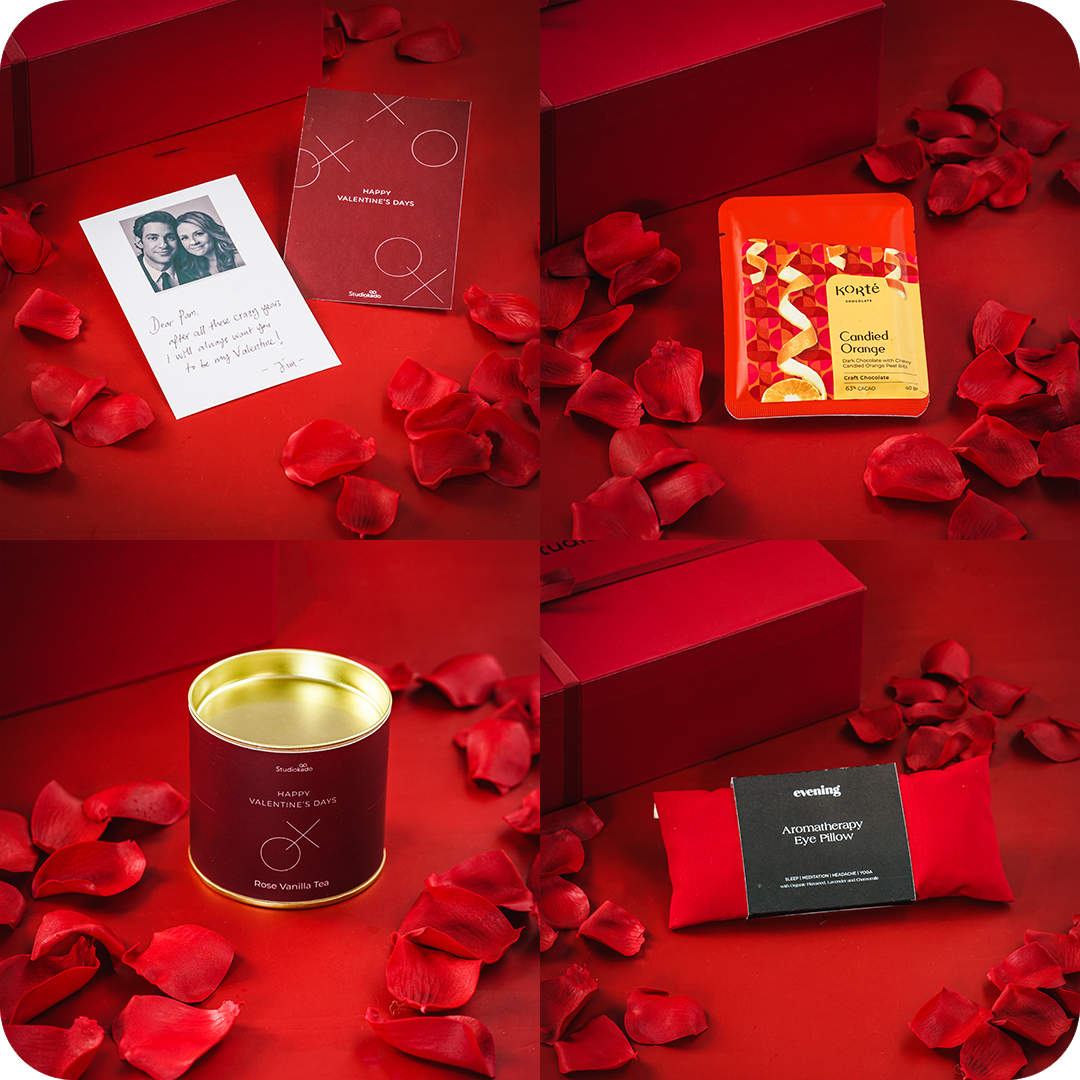 When it comes to Valentine's Day, the norm is usually to give chocolate, be it for family members, friends or a significant other. Whether it is store-bought or homemade, this type of sweet is always acceptable on Valentine's Day. However, once in a while, you might also want to give something that is different, yet still familiar, with more significance and added value. Especially if you have a significant other that you want to impress.
In that case, there are several things that can be added as a Valentine's gift. You might be familiar with the most popular kinds of chocolate such as dark, white and milk chocolate, but you can opt to choose from many other unique chocolate flavors. Chocolate goes well with fruit flavor, especially citrus flavors like lemon or orange, so a dark chocolate with candied orange peel bits is one of the options that you can pick. In addition, you can also get things to accompany them, such as tea. Flowers might not last as long, but a vanilla rose scented tea can serve as a balance to the chocolate and a long-lasting source of lovely scent for your loved one. As for a present that is non-consumable, a comfortable aromatherapy eye pillow would surely help your significant other to relax after a long day. It can be warmed, cooled or filled with essential oil to fit their mood and help them with their self-care needs. Last but not least, something as simple as a letter or a postcard to top things off is always welcomed. Celebrate This Special Moment with Valentine's Day Hampers from Studiokado!
Spend this special day by going on a date, be it going to the amusement park, or a romantic candle dinner date. Those who live far away from their loved ones might not be able to see their loved ones directly, but even with such limitations they can surely send something on this day to put a smile on their significant other. But, whether you meet or not, it wouldn't be complete if you didn't give anything to them, right?
With Studiokado, you can shower your loved ones with beautifully packed hampers with thoughtful items inside! Whether it's your partner, family, or friends, we have you covered with the perfect hampers! You can also customize your own hamper to add some personal touch, such as filling the hamper with your loved ones' favorite items, it's your call!
Complete your hamper with a greeting card filled with sweet words or even a poem. Studiokado also provides you with the choice to add a photo of your moment with your partner to make it even more special. We make sure to deliver the hampers safely and make this an unforgettable loving moment for you!
Love is in the air and Studiokado helps you pack all your love in this hamper for the special moment!


Frequently Asked Questions
Getting Started
To view all items included in each Box, just click on the Box to see the details on the product page.
Yes, a Greeting Card is included in every Box. You can include a personal note to the recipient, which will be handwritten on the Greeting Card
Customisations are possible for bulk orders, please contact us directly for this.
Yes of course, for Corporate Orders with branding and other adjustments you might need, please contact us directly.
We ensure that the expiry date is minimum 2 months after you receive the Hampers.
Shipping
We offer a wide range of delivery options and deliver throughout Indonesia. Same-Day delivery is also available. You can select your preferred option at checkout.
Yes, we do use very safe packaging with bubblewrap and a mailer box to ensure safe delivery throughout all Indonesia. If there is still any issue, we will take responsibility for any damages occurred.
Of course, if you prefer to pickup your box at our workshop, that is possible aswell. Just let us know for this.
Yes, we do deliver to everywhere within Indonesia.
Payment
We offer a very wide range of payment methods such as Credit Card, Bank Transfer, E-Wallet (OVO, Go-Pay), QRIS, etc.
At the end of the checkout, you can make the payment with your preferred payment method.