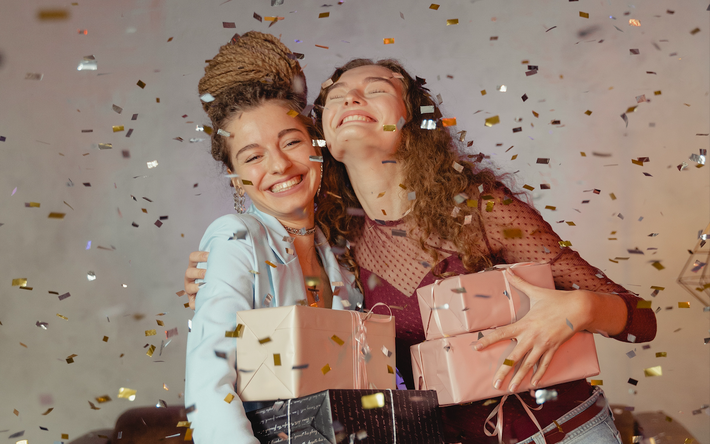 Wish a happy birthday with a special gift for the special women in your life | Credit: Photo by Tima Miroshnichenko from Pexels
Contrary to what you might be stressing about right now, picking a gift for your mother, your girlfriend, or even your mother in law can actually be much simpler than you think. In fact, just by knowing a little bit of their habit or routine, you can get a unique and thoughtful gift for her.
Just give them the things they need in their daily life, et voila! You've done it. Here's seven unique birthday gift ideas for her to help you out.
Relaxation and Pampering Package
Pamper her with this relaxation package as a birthday gift for her | Credit: Studiokado

She's been working hard lately? Well… you can remind them to take care of themselves and take a break with this relaxation and pampering package as a birthday gift. Throw in a relaxing bath salt, organic soy candles, that face roller and face-masks in there. They will surely appreciate your thoughtfulness!
Read : Best Corporate Hampers That You Might Miss

Artsy Gift Box, Special for Her

An artsy and sweet birthday gift for her | Credit: Studiokado

She's crafty and artsy? Don't worry, we got just the thing for your beloved woman. So this is what you can imagine her doing when she opened the box: She'll get excited because there's a painting set, and while she's painting, she can munch on melts chocolate with crunchy, indulge her senses with a scented candle and sip on a flower tea. What else? Oh, she might also think of how sweet and thoughtful you are for this thoughtful and unique birthday gift!


Morning Routine & Healthy Package
Bright and bold colored tea cups to brighten up one's morning | Credit: Studiokado

A great morning routine can work wonders to create lasting positive vibes throughout the day. What about a birthday gift box comprising a bright and bold-colored cup with raw honey, a wooden honey dipper, some tea to brew, and a golden spoon to mix them all? Voila! You've just made a unique and thoughtful gift! It might even be the perfect morning routine package they might not even realize they need so much until now!
Read : 10 Graduation Gift Ideas for Your Best Friend

Afternoon Tea Time Package

A perfect birthday gift for her if she's a tea addict | Credit: Studiokado

Research confirms that a break is good to boost productivity and can help combat fatigue. So another alternative to that morning routine and self-pampering birthday gift for her could be this tea-time package. Get a pretty cup in there, some tea, a french press, and don't forget the cookies too!


Flowery Package
A flowery and sweet birthday gift for her | Credit: Studiokado

If your girlfriend is all about that floral power, what about a sweet, flowery birthday gift box for her? Rose-shaped and rose-smelled hand soaps, rose-scented candles, with a dried or paper flower could be a nice everlasting decor addition on her work desk you know? Well, if you want you can also make it a "Sweet and Roses" package by throwing in that sweet, crunchy ferrero rocher (which might remind her of your jokes, if you know what I mean…)


Sweet Baby Package
A box filled with sweets as a birthday gift for her | Credit: Studiokado

She's sweet-toothed? Oh, honey, sing hallelujah cause your task just got a lot easier! A Ferrero Rocher, a Ritter-Sport, some cookies can never go wrong with a sweet-toothed. Okay maybe throw in some tea for her to balance all that? Yeah? Perfect choice for a birthday gift!
Read : 3 Wedding Gift Ideas For Your Best Friend

Fun Times Package

Artisan liquors can be a fun birthday gift for her too | Credit: Studiokado

Who says you can't have fun when you're old? When you're young at heart, nothing can really stop you from having a good, fun times.Throw in some liquors in that box for some liquor tasting journey. Try that while putting on some face-mask and light the scented candle while you're at it, and it could be their most memorable birthday gift for her yet.

Need further inspiration? Check out our ready-made gift boxes or create your custom gift box by yourself with Studiokado!
Help your loved one get a relaxed routine with this bath salt.