The birth of a baby is one of the most awaited things by any parent. The newborn's laughter can liven up the whole house, although their cries can also wake their parents up at night. The joys and sorrows it brings will always be priceless. There are many things to be grateful for when that day comes, be it the struggle of a mother when giving birth to her baby, the baby's first cry which is greeted by the happiness of everyone in the room, and the first contact between the baby and their parents. Moments like these are definitely worth celebrating.

Things to Look for in Choosing a Gift for a Newborn Baby

As a family and a relative, you can also celebrate and rejoice in their birth by giving them a gift as a symbol of appreciation and affection when visiting them in the hospital.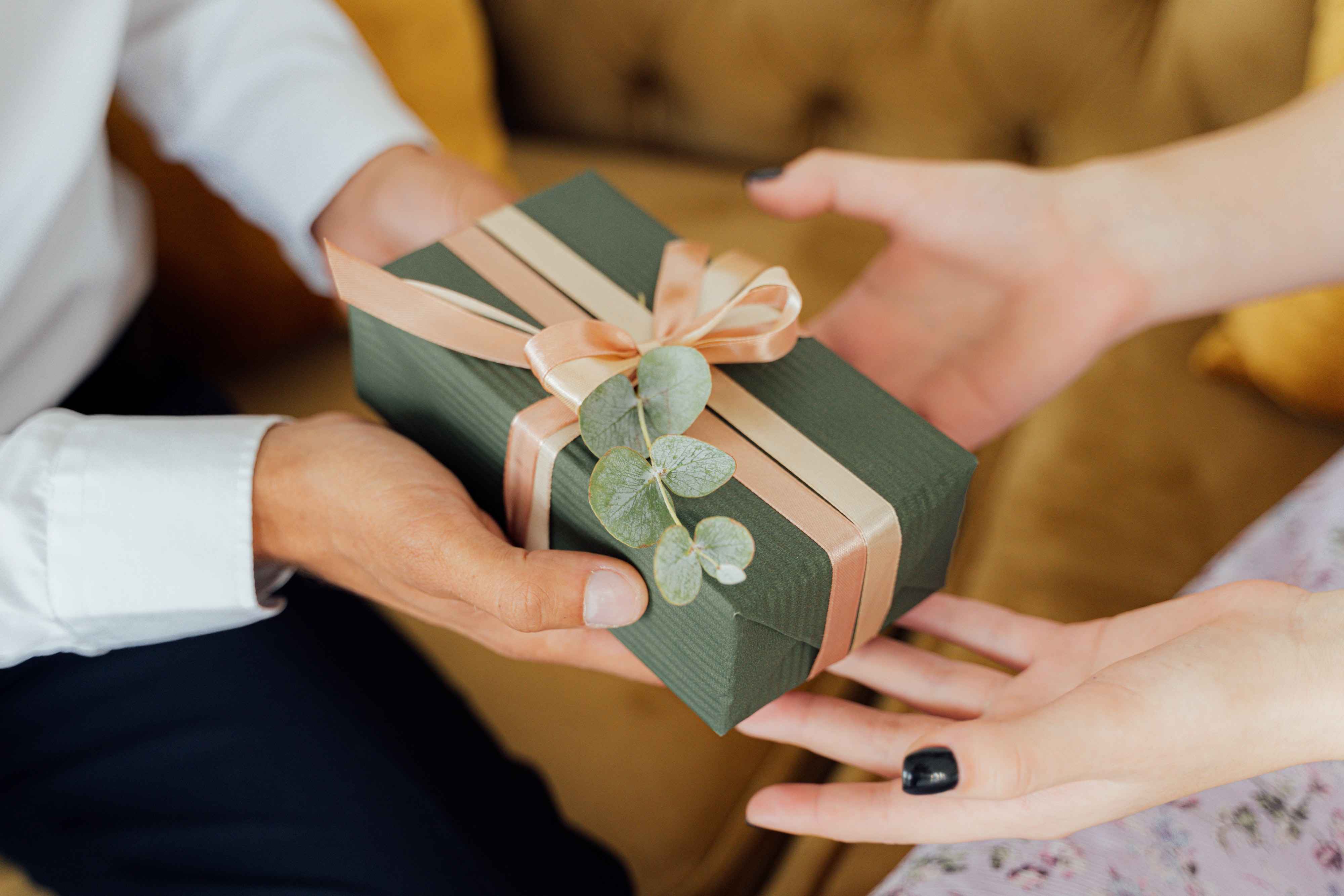 Giving a gift to a newborn as a token of joy for their birth | Credit: Antoni Shkraba from Pexels
However, giving a gift for a newborn baby shouldn't be taken carelessly, as newborn babies have special needs that you must consider. Apart from paying attention to the quality and functionality of the item, you also need to consider the gender and the tastes of the parents. Here are some things you need to consider in choosing the right gift for newborns:
Consider the benefits and requirements
Any gift that the family and relatives present for their baby will always be appreciated by the parents. However, it would be more suitable if you can see the actual needs of the parents with the addition of their new family member. They can get a sense of joy when they see gifts in the form of newborn daily necessities such as disposable diapers and infant milk bottles. Aside from the usefulness of the gift, they can surely feel your sincere intention to help them with their childcare expenses.

Sentimental value
Gifts that are personal and can serve as memorabilia should also be considered when choosing gifts for newborns. Time will be the main obstacle for parents in accompanying their child's growth and development. It may feel like it was only yesterday that they were born and today they are sitting upright. Therefore, gifts with high sentimental value such as photo albums and baby clothes with their names embroidered can make for special gifts for newborns. These gifts can serve as a record of the passage of time and become a memento of the newborn for the parents in the future.

Unique in its own right
When looking for a gift that is different from what's typically available on the market, you can try to consider the uniqueness of the item, but keep in mind the usefulness of the item. A unique gift is a gift that is made with special requests and has characteristics on its own. You can make custom gifts or if you have more time and skills, you can handmade them yourself. You can make dolls and knitted baby clothes or even wall decorations.

Be mindful of the quality
Newborns are pretty sensitive to new items due to their infancy. So, be sure to give the best quality and newborn safe gifts. When it comes to baby clothing sets, you should be able to ensure that the material used is soft and non-irritating. Or if you want to give a toy for the baby, make sure that the material used is non-toxic and safe in case they bite it. Be sure not to let your good intentions to make the parents happy turn into the reason for their sadness.
Picking a gift for a newborn baby is indeed a difficult task. There are many things that need to be considered to avoid unwanted things. In addition, there are countless variations of baby gifts offered on the market that may overwhelm us. With that in mind, here are some recommendations for safe and useful gifts for newborns:
1. Baby Blankets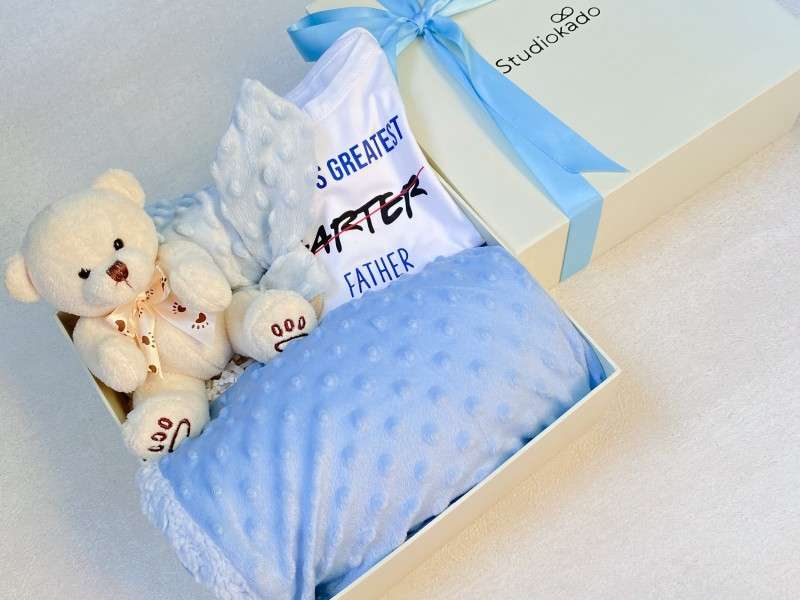 Giftbox filled with warm and soft baby blanket, clothes, baby teether, and a stuffed teddy as a gift for newborns. | Credit: Studiokado
The sensitivity of newborns is also related to the temperature of the room around them. Babies tend to get cold easily, so giving a gift of a baby blanket with warm and soft material for baby's skin can be a great choice as a gift. You can complement it with other baby items such as cotton onesies, teether, and cute teddy dolls just like this gift box that we offer.

2. Diaper Bags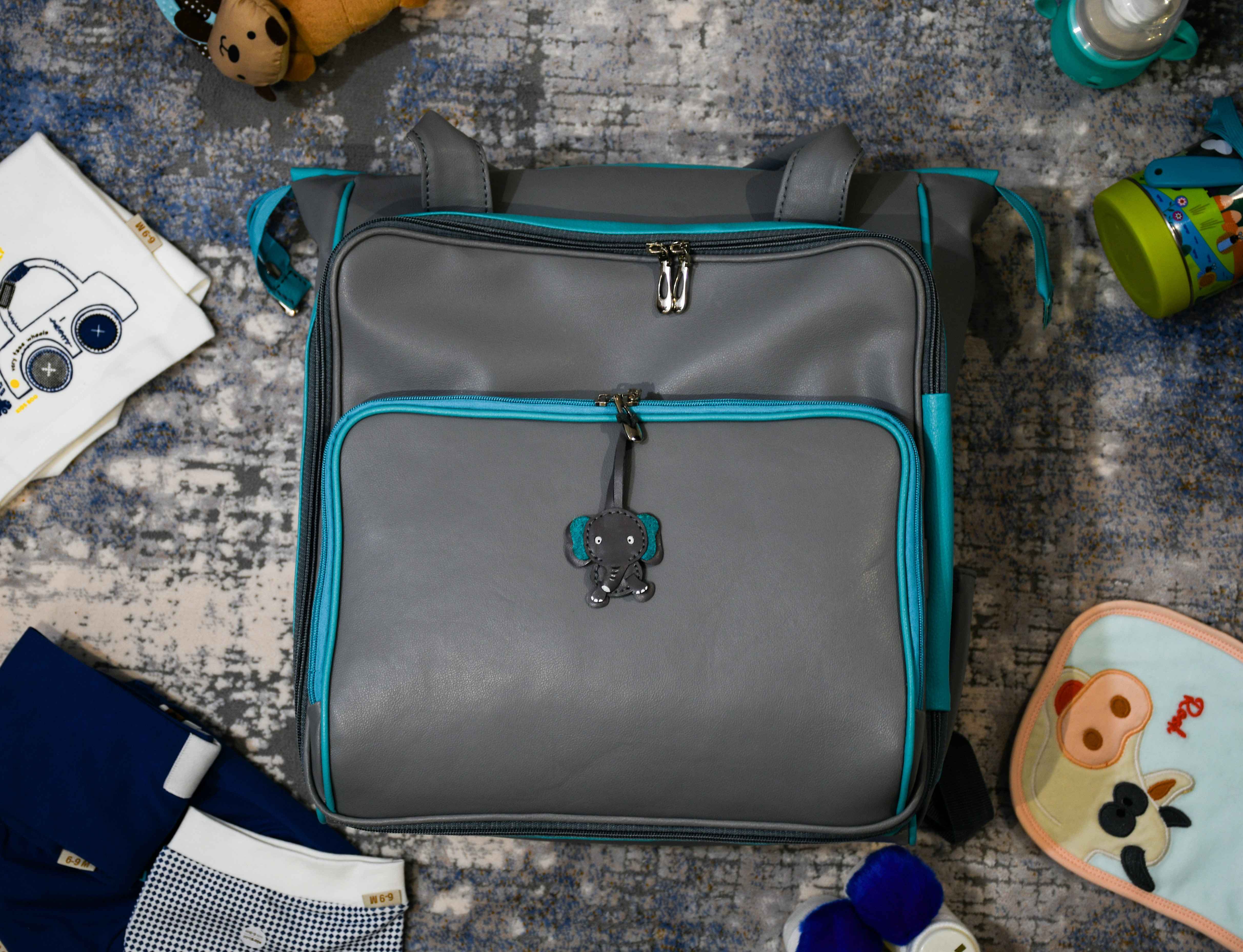 A diaper bag is a necessity when travelling with a newborn baby | Credit: Reihane Haririzade dari Unsplash
For parents who love travelling or simply visiting family and relatives, carrying baby necessities such as extra diapers, extra clothes, baby wipes, diaper changing pads, diaper rash cream and powder is essential. Therefore, a diaper bag with enough space and strong materials would be a fitting choice for a newborn gift.

3. Baby Teether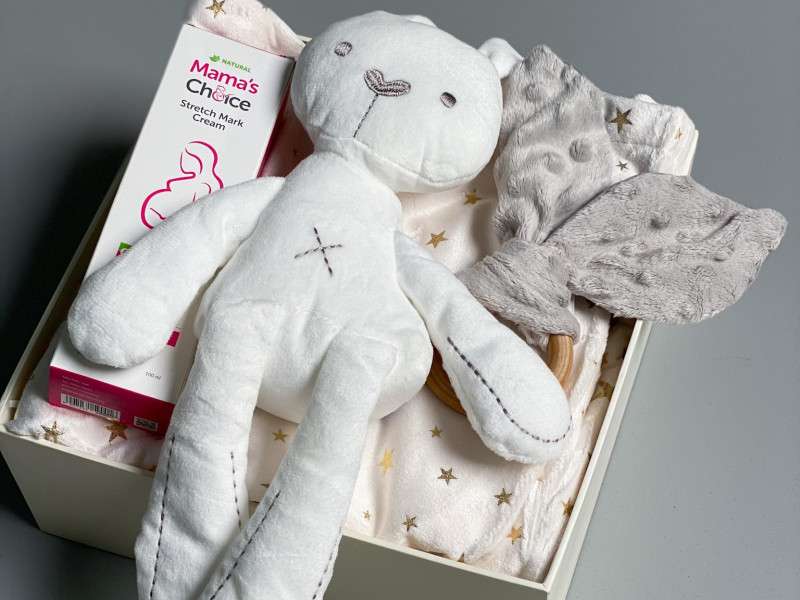 You can choose a teether as a gift for a newborn, along with some other complementary items | Credit: Studiokado
Calming a crying baby is often a challenging task for parents. Babies need toys that can ease their boredom while also being safe for their age. You may choose a baby teether made from materials that are safe for them to bite and soothe their cries. You can also complement the gift with some other items such as a baby blanket, a cute stuffed bunny, and an extra gift for the mom. Of course, you can always opt for these gift boxes that we have available for purchase.

4. Safe-for-babies Educational Toys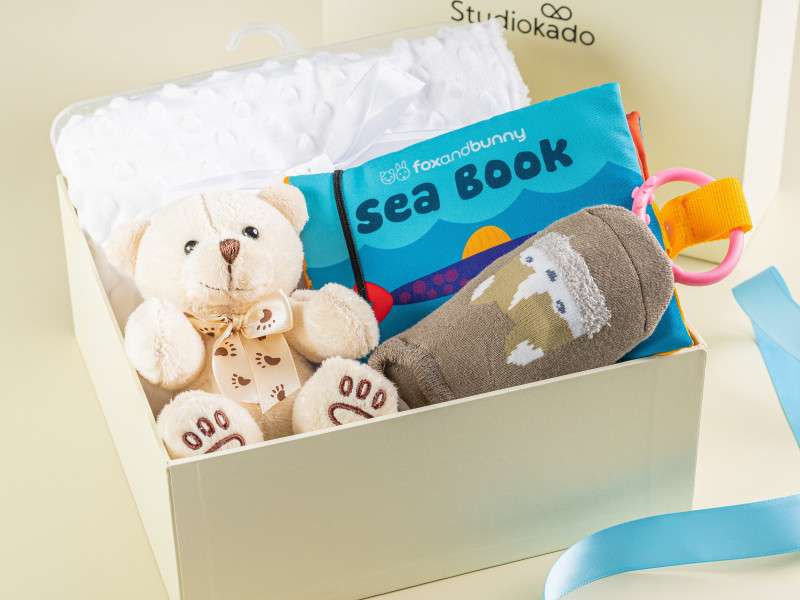 Colorful baby storybooks can help as a stimulus for newborn brain development | Credit: Studiokado
Even though they are only a few weeks old, there is nothing wrong with giving educational gifts such as colorful storybooks made from soft fabrics that are baby safe. Although they may not understand the storyline, the vibrant colors in the book can be a stimulus for the newborn's brain development. This gift can also be bundled along with other essential items such as a baby blanket, baby socks, and a cute teddy. For your convenience, you can also order these newborn gift boxes from our website.

5. Tableware Sterilizer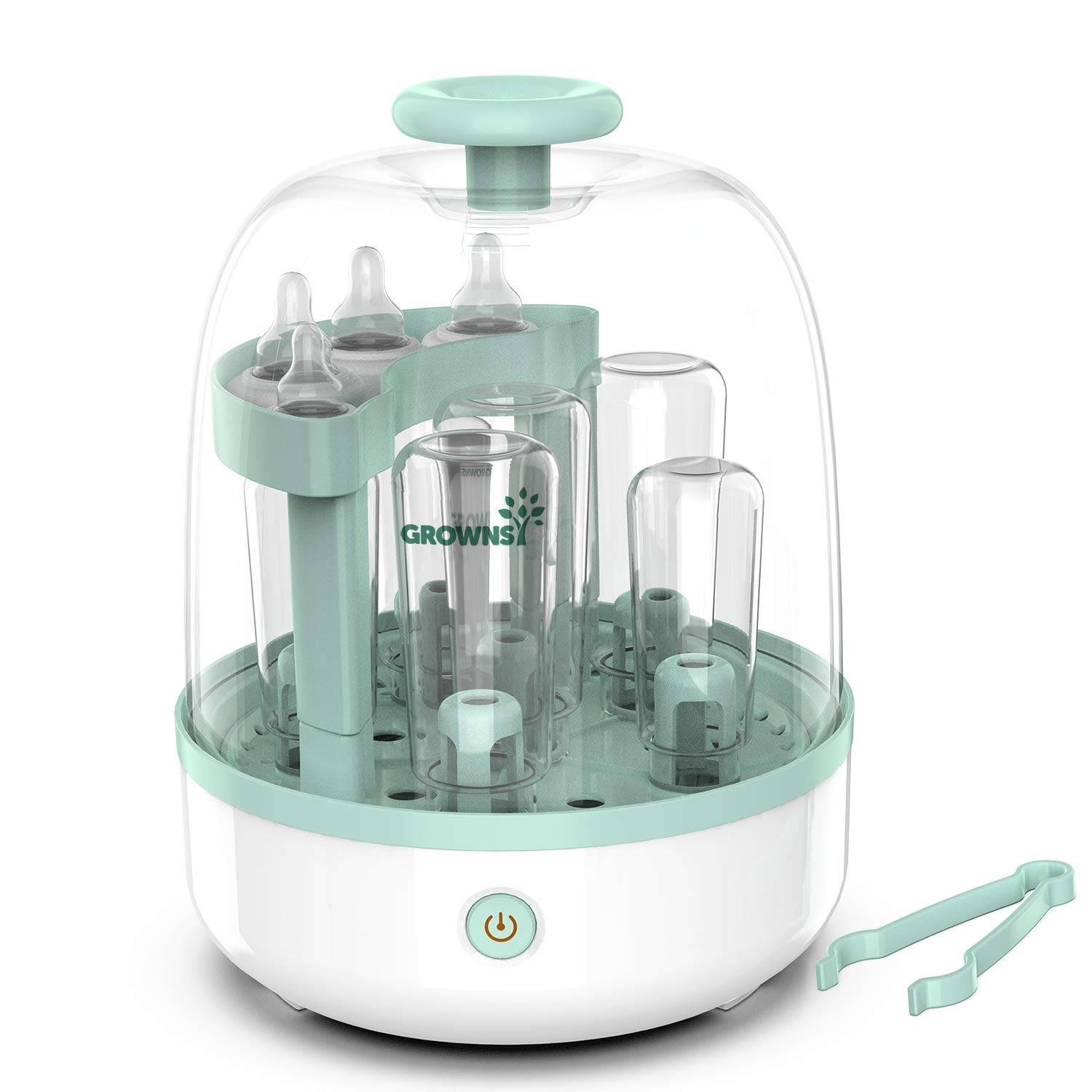 Baby tableware sterilizer can be a gift option for newborns | Credit: Grownsy
Baby tableware needs to be thoroughly cleaned to eliminate any bacteria and viruses that could be hiding on its surface. Newborns are very vulnerable to diseases, so a new sterilizer for their tableware can be a great gift.
Gifts for newborns must be of the highest quality and safe. It is also important to choose a gift that is useful and can convey your feelings of happiness for their birth. If you are still having trouble deciding on the right gift for a newborn, feel free to contact us via WhatsApp.
It's a blue Tea Set, Très Belle!
Feel-good and look-good rose soap for your aesthetic loving-friend.