Birthdays may not be as eventful for some adults, but it's a different story for children. From their perspective, getting older is always something to look forward to. Festive parties with their friends coming to celebrate, piles of colorful gifts and birthday cakes decorated with their favorite characters, various singing and fun activities, as well as candle-blowing moments followed by loud applause. These are the things that make children really look forward to their birthdays.

Birthday celebrations are moments that children would be excited about. And as a parent, you would not want them to miss this moment. At the same time, you also need to pay attention to several things to make sure that your child's birthday party goes smoothly. Giving birthday souvenirs is one of the things that we can add to the to-do-list when holding a birthday event.

Things to Consider When Choosing Child's Birthday Souvenirs

When it comes to planning on what to choose as a child's birthday souvenir, there are several things that we need to pay attention to, as follows: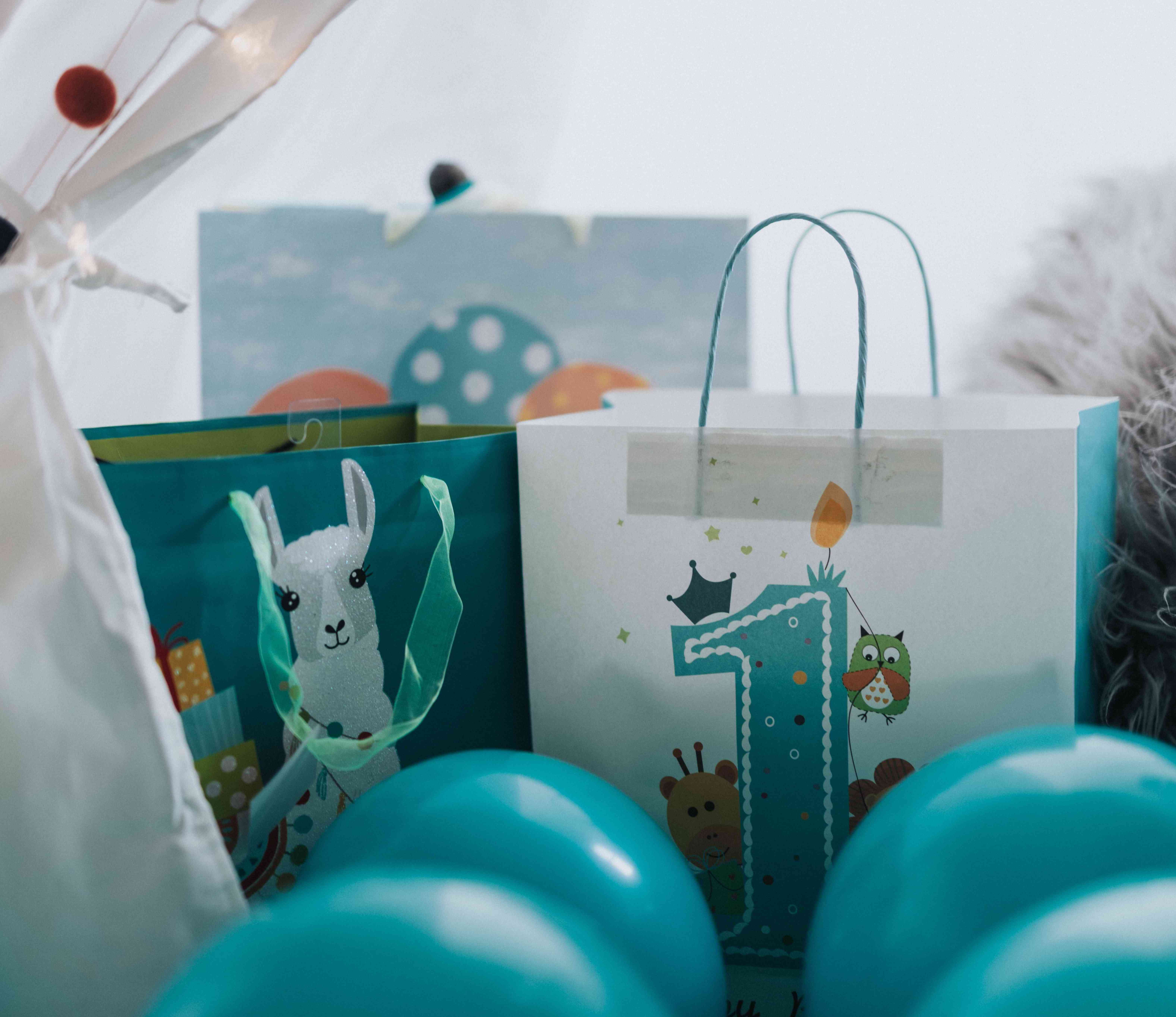 Souvenirs with animal pictures and vibrant colors for children | Credit: Nathan Dumlao in Unsplash

Choose souvenirs with an interesting pattern
Children pay more attention when it comes to items or foods that have bright colors and diverse, striking patterns. This is because of the way their brains work, which focus on objects that have contrast. Thus, souvenirs with colorful animal prints, cartoon characters or even their favorite superheroes are the right choice to be considered.

Make sure the souvenirs are safe for children
Not all items or food can be used as birthday souvenirs, as some can be harmful without parental supervision. For example, items made from glass or wood, if broken, can become hazardous for children to play with. Also foods that contain too many chemical additives are not recommended for child's consumption.

Pick souvenirs that are of decent quality and durable
Another right step for you to take is to decide that the souvenirs must be items that do not run out easily and are durable. This way, they can be used for the long term while still being memorable. Pick items that would be useful for children's daily use, especially those that are safe and have decent quality for them.

Souvenir Ideas for Children's Birthday
Birthday souvenirs, especially if it's for a child's birthday, usually consist of snacks that are wrapped in plastic to be taken home. However, you may also want to look for a different kind of souvenir. Here are some ideas of birthday souvenirs that are not only unique, but also useful and memorable for children!

1. Drawing Book Set and Colorful Crayons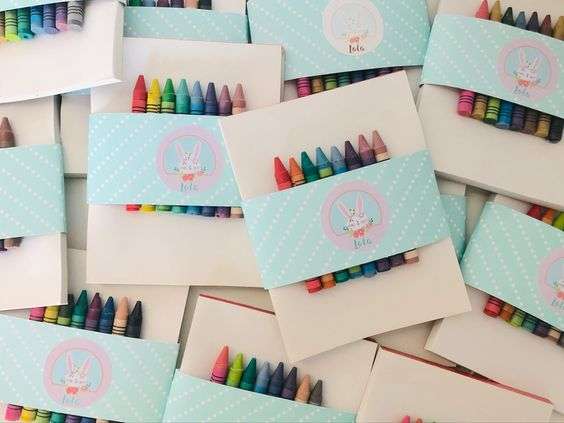 Drawing books and colorful crayons as a creative supplies for children | Credit: Ale Ayala on Pinterest
Children love to scribble, be it on the wall or glass. However, by giving souvenirs in the form of books and colorful crayons, they can channel their creativity and talents into these media instead. This book set comes with its own crayon set, convenient for children since they won't have to look for extra tools to pour their creative work.

2. Play-Doh Buckets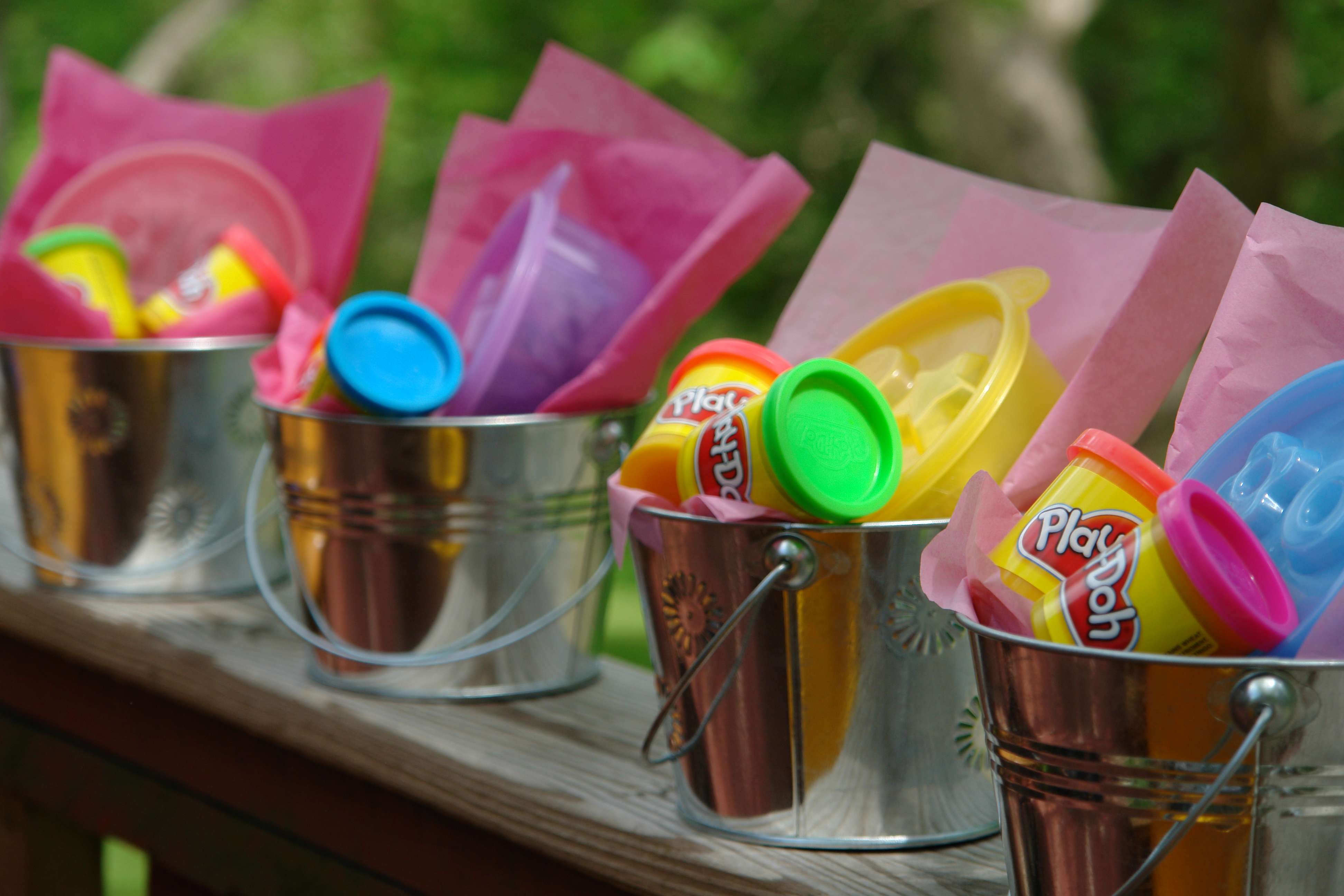 Play-dohs arranged uniquely in small bucket package as a child's birthday souvenir | Credit: patchattack on Flickr
Who doesn't know play-doh? This popular toy is one among the favorite choices of children's toys. With their imagination, children can be creative, playing while learning with the play-doh that they received as a birthday souvenir. Instead of having play-doh wrapped in plastic, you can arrange it into a small tin bucket, which will make for a unique and useful child's birthday souvenir.

3. Dolls and Blankets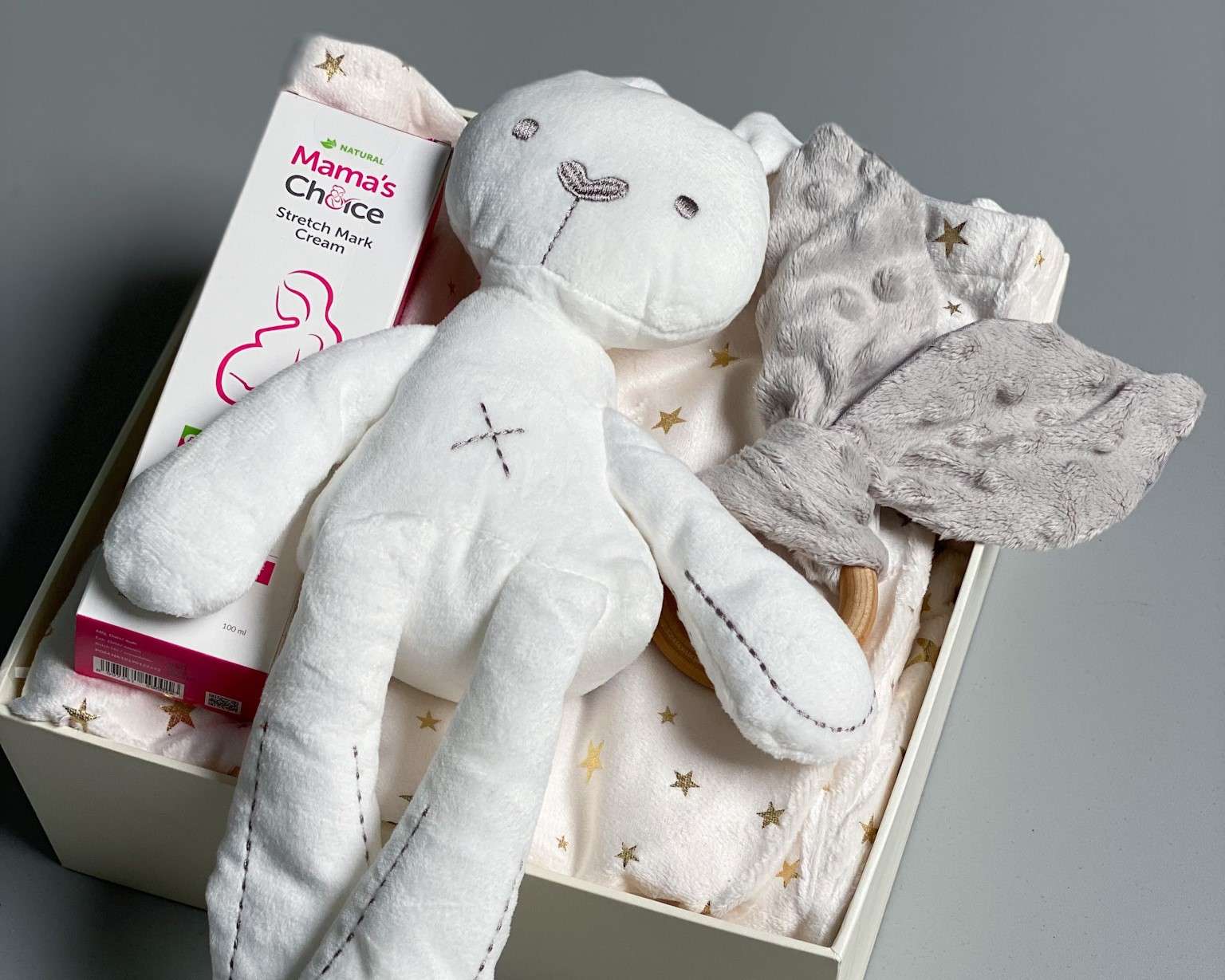 Cute dolls and warm blankets can be a great birthday souvenir especially for your children first birthday | Credit: Studiokado
Looking for souvenirs for your child's first birthday? You can choose this souvenir option as an alternative option that would be useful even for the parents. Cute dolls with warm blankets will definitely be useful for a child's daily use. If you have more budget and want to give memorable souvenirs, you can always choose these hampers for your child's first birthday.

4. Baby Book Hampers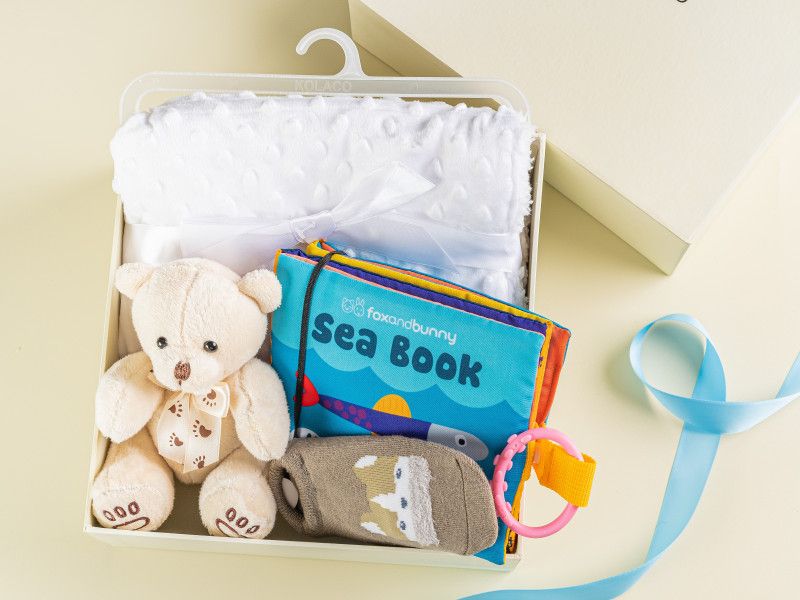 Baby book hampers has several kind of essential items and could be memorable birthday souvenirs | Credit: Studiokado
Perhaps you have a toddler whose birthday celebration also involves many toddler guests. In that case, you should consider souvenirs that can bring them to play and learn. Hampers filled with baby books made from child-safe materials, children's blankets, a pair of character socks, and a mini teddy bear are a great choice as souvenirs for them. These can also be used every day and are durable enough as memorabilia.

5. Mini Painting Set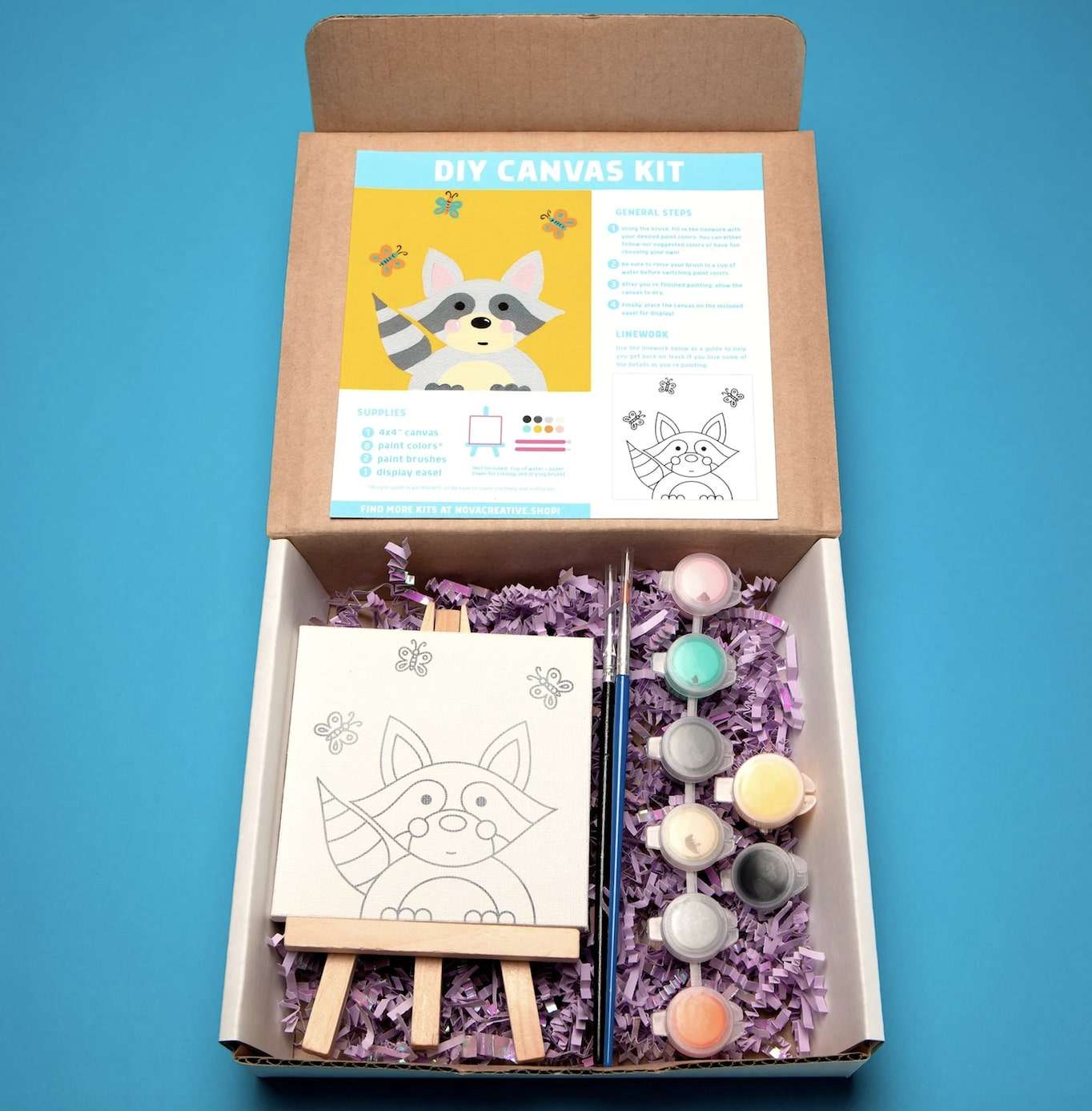 Mini painting kit comes with watercolor paint, brush, and canvas mount. A souvenir that children can use and display in their room. | Credit: NovaCreativeShop on Etsy
Just like drawing book and crayon sets, a mini painting set can also be another interesting option as birthday souvenirs for children. They can use it to learn how to mix colors and paint on a cute mini canvas. Moreover, this set also comes with a wooden mount, so that the children can display their creative work in their room.
6. Disassembly Toy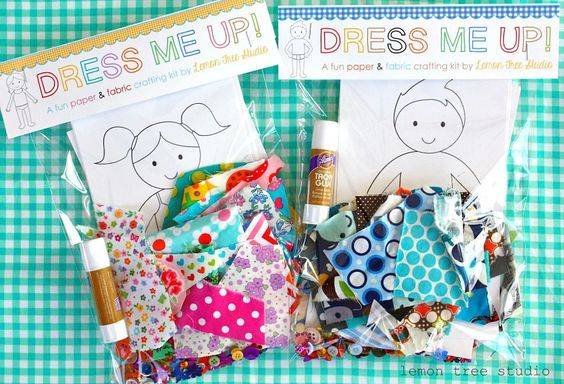 Disassembly toys such as dress me up! can be a creative pick as a birthday souvenir | Credit: NovaCreativeShop on Etsy
Lessons from kindergarten teachers can be applied into your child's birthday souvenirs. Disassembly toys can help stimulate children's creativity and motor skills. With these as souvenirs, you can provide them with unique, inexpensive, and useful toys that will support their development.

7. Cake in a Jar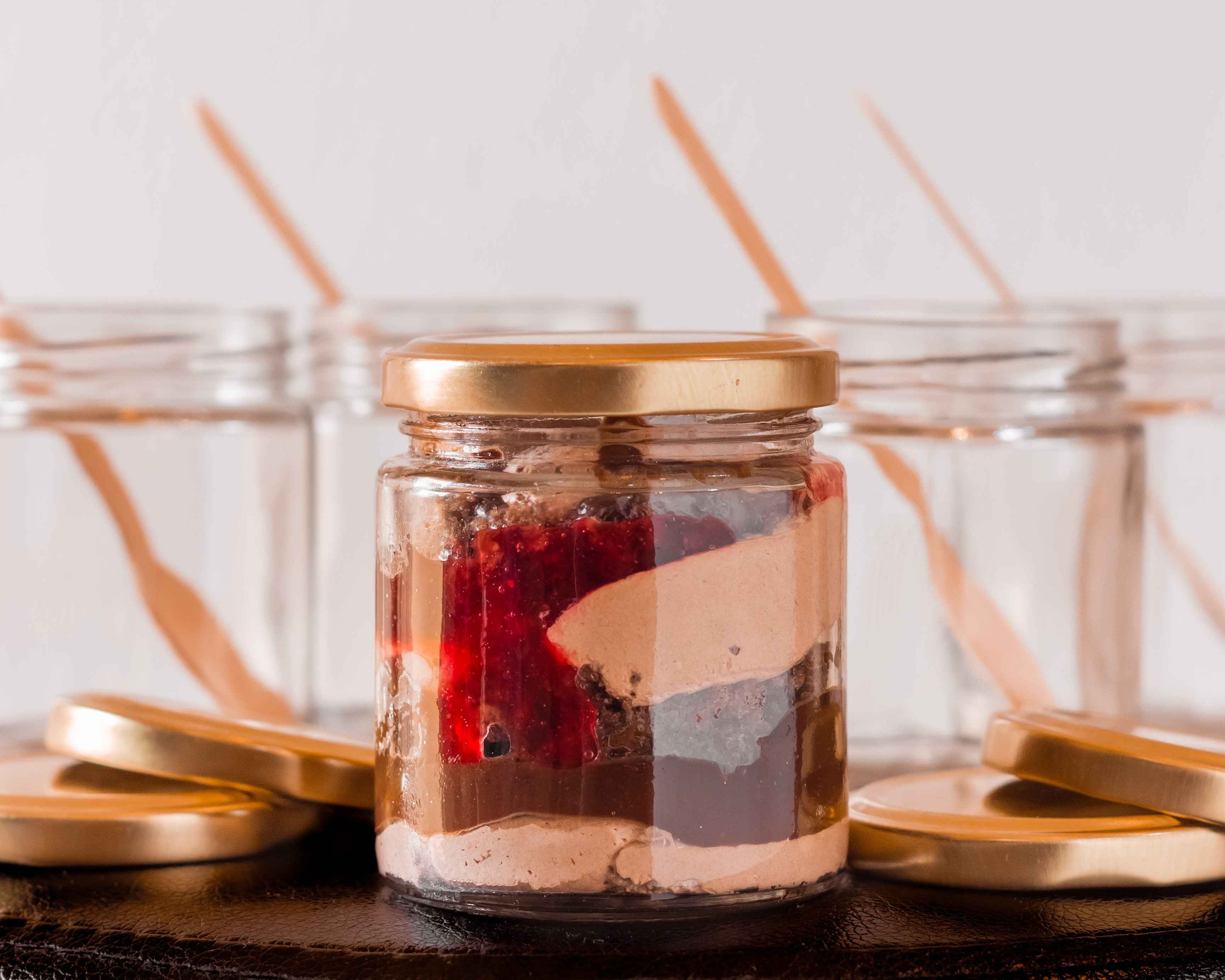 A mini cake in a jar that children would definitely love. Packaged in a reusable container | Credit: Rakesh Sitnoor on Unsplash
This soft and delicious cake is sure to be loved by children. Moreover, the jar can also be reused for storage and other purposes. You can still choose to use a glass jar as long as the child is under parental supervision, but to be safe you can opt for a plastic jar instead. Make sure the plastic material is safe to be reused.
8. Customized Mugs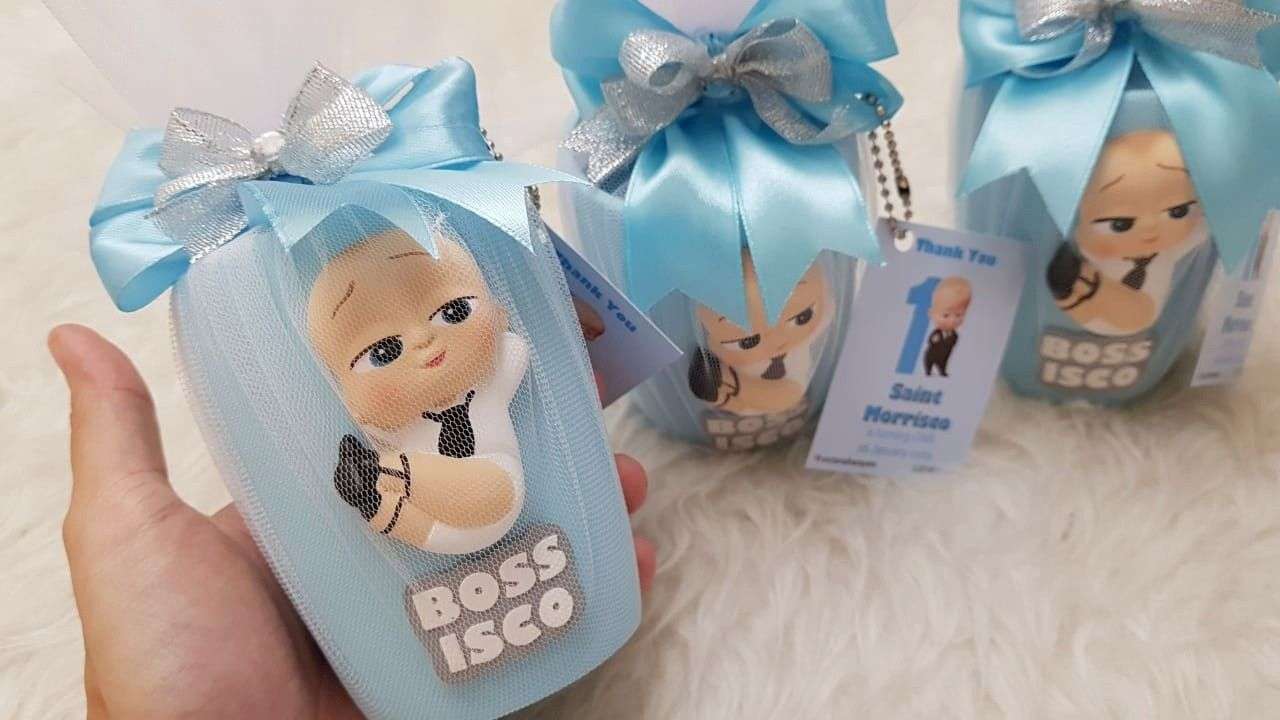 Mugs with children's favorite cartoon characters make for functional birthday souvenirs | Credit: Evelyn Juliend di Pinterest
Customized mugs with favorite cartoon designs or illustrations of your children can be a unique and more personalized choice for souvenirs. In addition, mugs are definitely needed in everyday life, so choosing them as souvenirs would make for a functional and versatile choice for your child's birthday.
Picking a child's birthday souvenir can be a simple yet somewhat challenging task to do. There are many things to consider especially when it comes to the child's interests and their safety. If you need help choosing the right birthday souvenir for your child, we're happy to help!
Feel-good and look-good rose soap for your aesthetic loving-friend.
Introduce your baby to the forest with this fun and educational baby book
It's a blue Tea Set, Très Belle!